Central Illinois Students Burst into Song at Youth in Harmony Fest
By Brendan Denison; Photos by Clay Jackson
BLOOMINGTON — LeRoy High School junior Izzy Pray heard a critique from vocal instructors on Thursday, October 27, 2022, that "Midwesterners sing like cornstalks."
That means they stand too still when singing. Pray then suggested: "What if we sing like cornstalks in the wind?"
Her six-piece girls ensemble from LHS arrived as part of about 150 total students who attended the first Youth in Harmony Festival since 2019 at the Bloomington Center for Performing Arts. They were coached on a variety of skill sets, ranging from vocal techniques to visual performance. A mass boys and girls chorus each performed that evening.
Pray attended with the rest of her ensemble, which includes senior Lucy Thayn, Katie O'Brien, plus sophomores Emily Melton, Adie Hanh, and Hailey Vollmer-Fogle. During a rehearsal session, they sang "Mr. Sandman" by The Chordettes.
Thayn said over the summer she listened to that song a lot and suggested to the rest of the ensemble that they perform it at the festival. She said getting feedback on Thursday from professional singers in The Sweet Adelines quartet was an amazing experience.
She also agreed it was inspiring. Pray added that criticism greatly helped them improve their performance, and it's satisfying to get their song down.
O'Brien said one of her favorite songs they performed Thursday was "Sweet Caroline." She said it was fun singing with the boys' quartet, too.
Taking popular songs and singing them in a different way is cool, she said, and it gives them a different perspective on the music.
Hahn said her favorite part about singing is connecting with students from different class years. Thayn added the camaraderie of singing with her friends is her favorite.
She also said she has a fun time with any music they can be expressive with. Thayn said she sat next to Pray in choir, and they would have fun doing passive acting with each other.
The group agreed that it's better than just being a "cornstalk."
All together now
The festival was hosted by Twin Cities-based barbershop chorus Sound of Illinois, which performed Thursday along with the South of Normal quartet, the Vermillion Valley Show Chorus and The Sweet Adelines.
Jim Stahly, historian and former director for Sound of Illinois, said after the event that the students exceeded his expectations.
At the end of the day, he said he thought the kids would be ready to go home. Stahly said they were not, and were instead still very enthused about performing.
He also said Joe Cerutti, one of the vocal clinicians at the event, was ecstatic after working with the kids. In the middle of the evening show, Cerutti paused and told the audience what a wonderful experience it had been for the students, who arrived from many different backgrounds.
"They all came together as one," Stahly said, adding the students forgot about all their differences when singing with each other.
More than straw hats
Eight Central Illinois high schools sent singers to the BCPA for the event, including Mount Zion High School.
That's where the festival started in 1998, said history teacher Rich Hansen, who founded the event and brought up to 50 students Thursday. He runs four a capella groups, including their co-ed show choir, "Swingsations."
He said with groups like Pentatonix making waves in the music world, a capella singing has become very popular and touched the next generation of kids.
Barbershop quartet singing, he continued, has given some the idea that it's just "a bunch of old guys in straw hats, striped coats and the handlebar mustaches, but barbershop harmony is so much more than that now."
Hansen said he has more kids in his singing programs than ever before.
"Being able to share that love of music with students is wonderful," he said.
Senior Clark Mason said he just moved to Mount Zion from Mississippi, and previously sang for a middle school choir in Wyoming. As someone who's always loved to sing, he said he immediately signed up for Swingsations, and roped his brother in, too.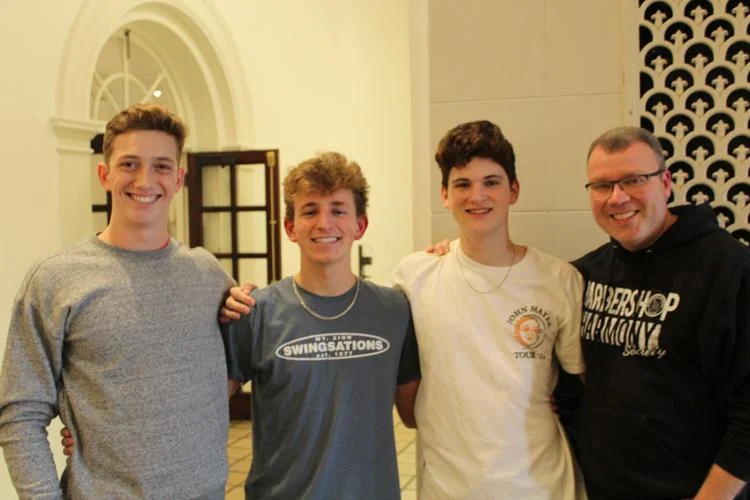 Having lots of guys to be around in the group is fun, Mason said. He added that festival coaches helped him knock off some rust that had built up while he was in Mississippi, where his school didn't have a singing group.
Mason was with juniors Alex Current and Aidan Seitz, who both sing in the "Class Act" quartet. They sang Frank Sinatra's "Come Fly With Me."
Current said the a capella program has helped him build confidence as a performer and a singer. He also said Hansen has helped with increasing his vocal range and hearing.
"I really do want to pursue it through my whole life," Current said of a capella. "It's a passion of mine, so I'm going to take everything that I've learned and carry it on throughout the rest of my life."
Seitz noted being in a capella has helped him learn how to read music, sing better and "use my talent to inspire, help other people."
Illinois Prairie Community Foundation awarded Sound of Illinois a Mirza/Arts & Culture Grant to fund the Youth in Harmony Fest. If you would like to support programs like this, donate online.
Top Photo Caption: Kathy Filipiak leads the "Young Women in Harmony" mass chorus of high school girls on Thursday during the annual Youth in Harmony Festival at the Bloomington Center for the Performing Arts. Eight Central Illinois high schools attended the event.